A caravan tour is a group of vehicles (maximum of six) traveling together.  Everyone travels in their own vehicle (or one that has been rented).  Little House Site Tours plans the routes, lodging, site visits, picnic, and a farewell dinner.  

               ALL  MEALS,  LODGING,  AND  ADMISSIONS  ARE  FURNISHED  ON  THIS  TOUR.

Visit Laura's Birthplace - Little House Wayside,

Pepin Museum,  and take pictures along 

Lake Pepin,

      Learn more about Pepin, Wisconsin, at

 Laura's Birthplace, 

Little House Wayside

 Pepin, Wisconsin

 We tour the Masters Hotel, Burr Oak,  and learn more about Laura's life in 1876-77.

All ages enjoy the 

Walnut Grove Museum with 

"hands on" activities.  Many items from the TV series are on display along with several original 

Garth Williams' illustrations.

Covered wagon  -  outside the

Masters Hotel, a favorite photo place.

Everyone enjoys viewing

Lake Pepin  -  along the

Great River Road.

We ride in this covered wagon to a one room country school and experience many pioneer activities.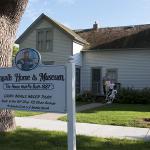 Pa Ingalls built this home in town.  We enjoy our tour here and also visit the Surveyors House and Brewster School replica.

Ma's Little House

at the Ingalls Homestead

All ages enjoy touring this church museum and seeing things from the Wilder era.